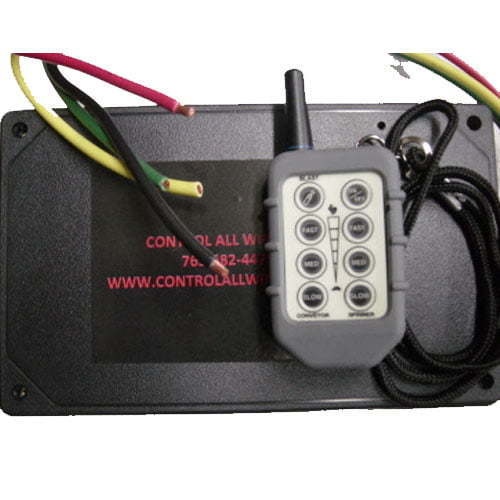 With ControlAllWireless, you can not cut the cords on your existing wiring on your Western Tornado Salt Spreader with our 650DC Wireless Controller Kits. With our wireless, you can pull $1500 worth of parts off your existing setup on your Western Tornado spreader and either sell off your unnecessary parts, or keep for later use. Either way, within 40 minutes of receiving our wireless unit, you'll be able to easily follow our setup and installation instructions and complete the wireless controller conversion on your Western Tornado.
Our wireless controller kit replaces all of these Western Tornado Part #'s for a total of $1500 MSRP:
95836
22511
99747
99542
99195
78434
99746
95837
78394
52385
78415
69902
76057
Check the 650DCKIT for complete conversion kit with power/ground wires, quick connectors, and everything else you'd need to completely convert your spreader to a wireless controlled salt spreader
Part # 650DC is a wireless receiver and wireless transmitter and comes with a wireless remote transmitter a wireless receiver for a dual dc motor powered salt spreader such as spreaders from Western, Boss, SaltDogg, Meyer, Swenson, Fisher or any other brand salt spreader with a dual DC electric motor. Also used as a variable speed control on all dual electric motors up to 1/2hp. Convert easily and use a wireless remote controller that can control all of your existing functions from up to 100 ft away. Wire your trucks up with an 8 gauge power/ground to the back of your truck and plug in with Anderson Plug Quick Disconnects so you can move your spreader from truck to truck more easily. Even at this price, it's still cheaper than OEM new wiring and controller, which can cost upwards of $800 for all new parts. That means after you buy our universal salt spreader wireless controller, you can sell your old OEM control box, controller wiring, and control mount and never look back. The wireless controller replaces all of your existing functions including variable speed control. Works with 12V DC Voltage Up to 500′ Range
Operational range of up to 500 feet from wireless transmitter to wireless receiver.
Weather potted to protect the wireless receiver in any harsh weather conditions including extreme cold, rain, sleet, snow and ice.
Covered by a 1 year warranty.
Instant wireless receiver activation to wireless DC receiver.
1 in 16 million address combinations ensure you can have many wireless transmitters added to each receiver if needed.
Up to twenty wireless transmitters can be paired to a single receiver.