Boss Drag Pro Back Blade Plow Made Even Better With Wireless Controller Kits
The Boss Drag Pro is awesome. Not only is it an innovative next generation of snow removal operation, but it cuts your plowing time in half due to the extra large 16 ft blade. If you're unfamiliar with them, I'd suggest checking them out. For those of you that already own a Boss Drag Pro Back Blade and have experienced how great it is, you've come to the right spot if you're ready to take it to another level. Our wireless controller conversion kit will take all of your existing functions you have already grown to love, and allows you to remove all of your existing controller wiring and the controller itself in order to install our wireless controller kit which takes all of those plow functions and puts them into the palm of your hand. You may be asking, "But why?", well there are a couple reasons that our wireless controller kit is beneficial to you and your snow removal business:
1/3 of the cost of OEM controller and wiring replacement.

New controller and wiring for a Boss Drag Pro will run you over $1,000….easy.

Enables you to move your Boss Drag Pro from truck to truck if you wanted to.

Just buy mount up another truck for your Boss Drag Pro and buy a 2nd power cable for that vehicle. From there, the controller and blade can be moved from truck to truck without paying thousands of dollars to wire up a 2nd truck with OEM cables and controllers.

Ease of use.

Once you use our wireless controller with your Boss Drag Pro once, you'll wonder why it doesn't come standard with every back blade.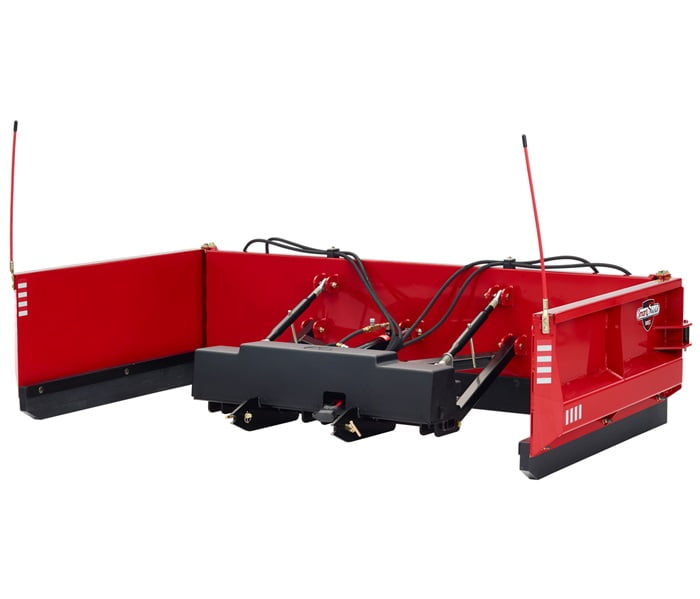 All of the Same Functions, but Wireless
The Boss Drag Pro Back Blade is a game changer. We love it at SnowplowsPlus and our customers love them too. With that being said, we are always looking for ways to no only improve on products to provide for a more efficient way of moving snow, but we hate drilling into our truck cab and running wires all over our truck just for an OEM controller. That's why we've created the wireless controller conversion kit, specific to your Drag Pro. With a few quick and easy steps you'll be able to convert all of those same great functions you've come to love on your Boss Drag Pro Back Blade including the ability to control each wing independently, in the palm of your hand from your new wireless handheld controller. In order to complete your installation and conversion to wireless, you'll receive the following with your wireless controller kit:
Wireless transmitter with boot and lanyard
Receiver with fly in leads
Connectors
Power Cord (Plow-Side) NOTE CORD ENDS MAY VARY DUE TO SUPPLY
Power Cord (Truck-Side)
Breaker
10-Amp Fuse Link
Solenoid
So, How Does This Work?
It's simple, we've already completely all of the programming of the board within the wireless receiver to help communicate with your Boss back blade plow, from there all you have to do is rip out all of your existing Boss Drag Pro Back Blade wiring and the OEM controller. You won't be needing that any longer. Follow the instructions for installation found in the manual included with your purchase (also located at the bottom of this page), and away you go. The 8-button handheld keyfob transmitter (wireless controller) will then communicate via RF and provide a constant connection to your plow (when your truck is powered on) without any interruptions. Don't think of a wireless internet connection that's spotty in certain parts of your house. This is a wireless RF transmission, which means it would provide a constant UN-interrupted connection at all times from much further away than just your vehicle's cab. They are rated for up to 500 feet away, but there's no reason for that.
Controller Functions:
Button 1 – Down
Button 3 – Up
Button 2 – Both wings retract
Button 4 – Both wings extend
Button 7 – Driver's side wing extend
Button 5 – Driver's side wing retract
Button 8 – Passenger side wing extend
Button 6 – Passenger side wing retract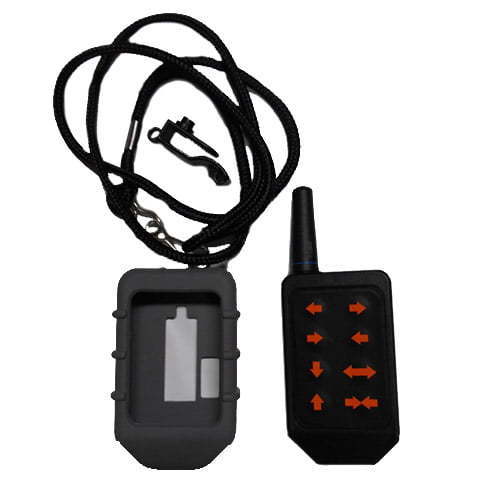 Does this thing hold up, or is it just going to break?
At SnowplowsPlus, and ControlAllWireless, we don't mess around with "junk". We run our wireless controllers on all of our own equipment from snow plows and salt spreaders to many larger applications. Not only do these last, but we guarantee they'll last longer than OEM controllers and wiring. Our wireless receiver boxes are 100% weather podded and tested in the harshest Minnesota weathers. Rain, sleet, hail, snow, severe cold, and everything else Mother Nature can throw your way can be handled easily by our wireless controller kits. We back all of our wireless kits with a 1-year warranty so even if something does go array, you can contact us and we'll help you out.
Feel free to check out one of our customer's personal YouTube videos with this same unit installed on an Ebling Back Blade. This would perform the exact same way as your Boss Drag Pro.